We believe in being reliable and punctual. That is why we have only the newest of equipment.
Some of our trucks are 2014 Dodge Ram 2500s and our plows are also brand new 2014 plows.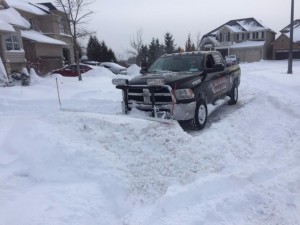 Our salters are Blizzard Ice Chasers which can throw salt as short as 2 feet and as far as 40 feet – making us efficient.
For our clients that specifically request snow blower service all of our snow blowers are commercial grade Toro blowers with non-marking rubber paddles.
Having beautiful equipment doesn't end there with our service. All of our trucks are fully equipped with state-of-the-art fleet tracking and notification systems.
Fleet Notifications – There is nothing worse than being away on vacation or stuck in the office downtown and wondering if your snow removal contractor is going to clear the snow on your property. With Halton Snow Removal Services we take the guessing game away with our fleet client notification system.

At your request, we are able to generate a monthly service report that will provide you with the truck that was on your property, the exact date and time the truck arrived and departed and the duration of how long the truck was on your property. This is a service that NO other snow removal contractor in Halton can provide!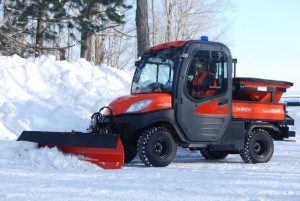 New for 2015/2016 we have equipped a state of the art Kubota RTV 1100 with a 6 foot V-Plow. These machines are small so they can get into tight places (as small as sidewalks) yet extremely tough to be able to tackle large properties and vast enough to drive on the roads.